Laboratory Services
Our in-house laboratory is equipped with the Idexx Catalyst Dx and Idexx ProCyte. These instruments perform chemistry panels and complete blood counts, respectively. Results can be available within 20 minutes after the blood is drawn, depending on the type of blood sample obtained. The chemistry panel assesses liver and kidney function, and electrolyte concentrations can be included if needed. The ProCyte also performs cell counts on abdominal, thoracic, and synovial fluid.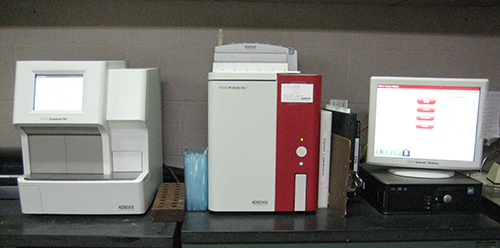 Fibrinogen and serum amyloid A concentrations are two additional laboratory tests that are used to monitor the severity of an infection and its response to therapy. Each of these tests are performed on whole blood, with results available after 10 minutes.
In addition to the Catalyst Dx and the ProCyte, the laboratory also includes the Heska iSTAT, a point-of-care analyzer that performs blood-gas assessments. This instrument is critical to providing proper monitoring of anesthetized patients, as the blood oxygen and carbon dioxide concentrations can easily be obtained as needed throughout the anesthetic period. Neonatal foals with respiratory compromise are also monitored using the iSTAT.
Neonatal foals require special bloodwork to assess their Immunoglobulin G concentrations (IgG). A normal IgG concentration greater than 800 means the foal received enough good quality colostrum. This SNAP test takes just under 10 minutes to perform, and determines if the foal requires a plasma transfusion and/or antibiotics.
The final test performed in-house is a fecal floatation. This test shows the type of parasites (worms) in the manure, and how many. Results allow selection of the best deworming medication and the best frequency of deworming.