Advanced Lameness Diagnosis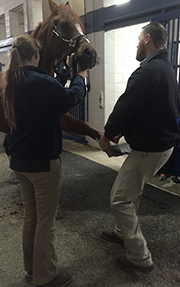 Lameness is common in all breeds and uses of the horse. The Equine Specialty Hospital performs comprehensive lameness examinations in order to identify the source(s) of discomfort and provides you with detailed treatment options.  Most lamenesses can be identified through traditional examination, conformation evaluation, flexion tests and local anesthesia (blocking).  However, the hospital also sees a large number of horses that have complex lameness issues with either multiple sources of lameness in one leg, multiple limb lamenesses or severe neck, back or pelvic problems.
Digital radiography, digital ultrasonography, nuclear scintigraphy, and magnetic reasonance imaging (MRI) are all available at the Equine Specialty Hospital to help diagnose simple and complex lameness problems. Once the problem has been diagnosed, a full complement of treatment options are available, including regenerative medicine and rehabilitation services.