Laser Use in Veterinary Medicine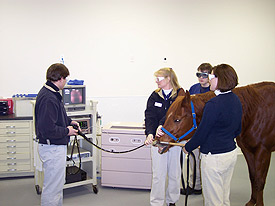 The use of lasers in veterinary medicine has grown rapidly over the last several years. At The Equine Specialty Hospital, a Nd:YAG (Neodymium: Yttrium, Aluminum, Garnett) laser is utilized for many different procedures. This type of laser may be inserted through the 1-meter endoscope for minimally invasive procedures, an advantage over some other types of lasers.
Minimally invasive endoscopically-assisted laser procedures are used to treat a variety of upper respiratory abnormalities such as ethmoid hematomas, nasal septal cysts, and laryngeal hemiplegia. Another common endoscopically-assisted laser procedure is the ablation of uterine cysts, a frequent cause of infertility in mares.
The Nd:YAG laser can also be used alone to treat many different skin conditions. Sarcoids, squamous cell carcinomas, warts, and aural plaques can successfully be treated using laser therapy.