Neonatal Intensive Care Unit
The Neonatal Intensive Care Unit at the Equine Specialty Hospital is fully equipped to accommodate foals requiring intensive medical or surgical care. The unit consists of two heated and fully padded neonate stalls. These stalls are equipped for in-stall oxygen delivery, full in-stall vital sign monitoring (ECG, indirect blood pressure, etc.), and continuous intravenous fluid and intravenous nutrition administration. The dam of the critically ill neonate can be housed in an immediately adjacent stall. She may be allowed either visual contact or direct contact with the foal as appropriate.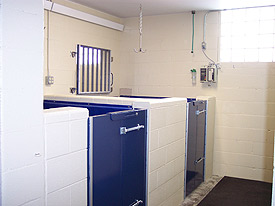 A separate 12' x 12' climate controlled (heat and air conditioned) stall is equipped with a foal bed. This stall allows the mare and foal to stay together in an intensive care setting. The level of intensive care provided to neonates is tailored to the patient's needs. Continuous nursing care for critically ill neonates is standard and continues until improvement in the foal's condition dictates otherwise.