Nuclear Scintigraphy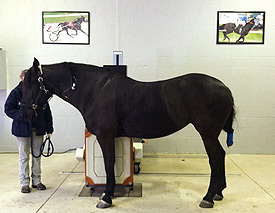 Nuclear scintigraphy (bone scan) is a valuable tool in lameness diagnosis. The underlying cause of some lamenesses can be determined through a lameness examination, diagnostic nerve blocks, radiographs, and ultrasound. However, horses with more than one lame limb or with multiple problems in the same limb can be difficult to thoroughly diagnose by conventional methods. Additionally, lameness issues in the upper limbs (shoulder or hip), neck, back, and pelvis are often impossible to diagnose without nuclear scintigraphy.
As in human medicine, a bone scan involves the intravenous injection of a radioactive isotope. This isotope passes from the blood stream into soft tissues (muscles and tendons) and then into bone. Areas of inflammation or bone remodeling result in intense concentration of the isotope, i.e. "hot spots."
Valuable information regarding inflammatory changes in and around joints, suspensory ligament desmitis, flexor tendon inflammation, and navicular syndrome can be obtained during the soft tissue phase of the scan. Scintigraphy can detect changes within tendonous structures prior to development of permanent damage. The bone phase of the scan is invaluable in the diagnosis of degenerative joint disease (arthritis), bone remodeling, stress fractures, and traumatic fractures.
Horses hospitalized the day prior to the scan, and for a minimum of 24 hours after the scan to allow for dissipation of radioactivity. Following the scan, the areas of intense isotope concentration are evaluated via radiography or ultrasound and treatment recommendations are provided.