Digital Ultrasound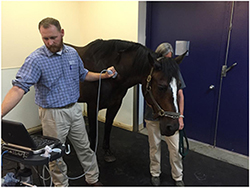 The Toshiba Nemio provides unprecedented digital images of soft tissues located immediately beneath the skin or deep within the body. Frequencies as low as 2.5 mHz allow us to image the equine abdomen and chest, and higher frequencies of up to 14 mHz allow imaging of flexor tendons and suspensory ligaments.
The Nemio also provides us with color doppler technology. Color doppler provides real-time imaging of blood flow, allowing visualization of the heart and other blood vessels.
Ultrasound-guided surgery can be performed with confidence due to the excellent quality of the images provided by digital ultrasound.