Videoendoscopy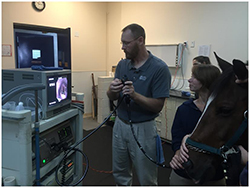 Endoscopic examinations of the upper-airway and urinary tract are performed using fiberoptic endoscopes of 1 and 1.9 meters in length.  The images are seen in realtime on the video monitor.  Videoendoscopy is an important tool in diagnosing respiratory abnormalities, sinus problems, and bladder abnormalities.
Dynamic Endoscopy
A dynamic endoscopy enables us to evaluate and analyze upper airway restriction problems during exercise. The system goes over the bridle and does not impact or impede the ability to control or use the horse as you normally would.
The endoscope cable is placed into the horse's nasal cavity with the camera tip positioned above the larynx. This placement gives an excellent view of the epiglottis and larynx at rest and during exercise. 2 hours of stable, high quality video can be recorded. The video can be viewed after the procedure while onsite or easily transferred to a computer.
Advantages of the procedure include the ability to perform the examination in the environment and with the same conditions in which the horse trains and competes. The procedure can be completed at a local racetrack and the Equine Specialty Hospital can assist with scheduling and coordination.