Equine Podiatrist
Edward A. Cigany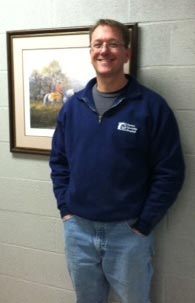 Mr. Cigany graduated from Western's School of Horseshoeing in Phoenix, Arizona in 1984. Over the last 25 years he has specifically pursued corrective and therapeutic horseshoeing. Additionally, Mr. Cigany has developed a special interest in the challenges presented by horses suffering from laminitis. Attendance at the annual Bluegrass Laminitis Symposium, the Laminitis and Diseases of the Foot Conference, the International Hoof Care Summit, the annual American Farrier Convention, and the annual Cornell University Farrier's Conference has given Mr. Cigany the expertise necessary to shoe horses with laminitis and other hoof injuries and diseases.
He has been working closely with the hospital's specialists since 1999, and in 2004 the hospital built the podiatry center. Together, the specialists and Mr. Cigany formulate an appropriate treatment plan using digital radiographs, CT images, and MRI images of the horse's foot. This treatment plan combines appropriate pain management and sedation, any necessary surgical treatment of the foot, and corrective and therapeutic shoeing. This team effort between Mr. Cigany and the specialists is critical in ensuring a successful outcome.
Mr. Cigany also works closely with your at-home farrier, allowing a continuum of care after your horse has been discharged from the hospital.