Equine Veterinarian
Molly Patton
Doctor of Veterinary Medicine
Masters of Science
Diplomate, American College of Veterinary Surgeons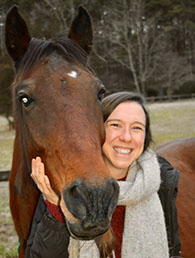 Dr. Molly Patton grew up in Raleigh, North Carolina, where she spent time riding in the Hunter/Jumper circuit, before moving to Athens, Georgia for her undergraduate degree. After completing a bachelor's degree in Animal Sciences at the University of Georgia in 2014, she moved back to Raleigh where she attended North Carolina State University College of Veterinary Medicine and graduated in 2018. Dr. Patton received her master's degree in biomedical and veterinary sciences from Virginia Maryland College of Veterinary Medicine.
In 2018, Dr. Patton completed a one year rotating internship at Louisiana State University School of Veterinary Medicine in equine surgery and medicine. In 2019, Dr. Patton began a three year equine surgical residency at Virginia Maryland College of Veterinary Medicine in Blacksburg, Virginia that was completed in 2022.
Dr. Patton relocated to Burton Ohio and joined the Equine Specialty Hospital in September of 2022. She is one of the three surgeons at the hospital. Dr. Patton became a Diplomate of the American College of Veterinary Surgeons in March of 2023. Her interests include gastrointestinal disease, sinus and dental problems and soft tissue surgery.